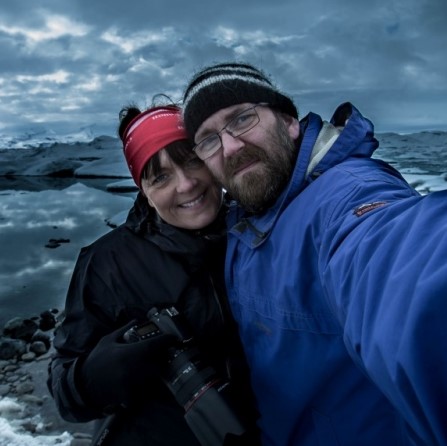 Who are we, what are we, what do we do and what can you expect Difficult questions…  let's try:
We are Self-taught photographers and we have a passion for taking pictures and playing around with photography and photo processing. Our photography is not just a hobby as we do take some projects in photography, graphic design and web design. We have ambition for what we do when it comes to photography and possessing of our projects.
We are also outdoor "freaks" having our best times traveling around in our camper exploring our beautiful country, walking and hiking is a lifestyle which fits well together with the photography interest. The camera is never far from wherever we are,
And so are our dogs as well. They are Dimma the black one, she is a "pure dog" or a city-child as we call her, and the small one, Askur the male in the group and is a king cavalier spaniel.  Those two usually tend to be unlimited source of photo material.
Another grade passion we have are motorcycles, we do ride a lot and use bikes in our daily lives, as well as building and customizing. Motorcycle and our interest in them also reflect in our passion to photograph them.  
In photography we are currently using an Canon 6D and 60D cameras with EF 16-35 L F/2.8, EF 24-70mm L F/2.8, EF 70-200mm L IS F/4, EF 50mm F71.8 and EF-S 17-85mm IS lenses as well as pile of flashes, studio lights and other stuff.
If you want us to help you with a photo, graphic or a web project, just contact us, you'll find all our contact information's here on the right side or on the front page of this web.
This web is our portal to promote our work, well as our way of sharing our experiences and adventures in our lives. The reason for us to write this in English is because when we get famous, we don't have to do it all over again "hehe"     
"Never ask what fun can do for you, ask what you can do for fun" :o)